The cleanliness of your office makes an impression on those who visit. A neat, clean and well-organized appearance not only enhances the aesthetic of your building but creates an environment that is healthy for your employees, customers and visitors. Hire a janitorial company that uses the most advanced cleaning methods, technologies and processes to get the job done safely and thoroughly.
ServiceMaster Commercial Services of Carroll County is your janitorial expert and we can service any building in Frederick, Maryland including healthcare facilities, offices, hospitals, hotels, research facilities, retail stores, public entertainment venues, schools and more. We understand the nuances of your business and create a custom cleaning plan just for you.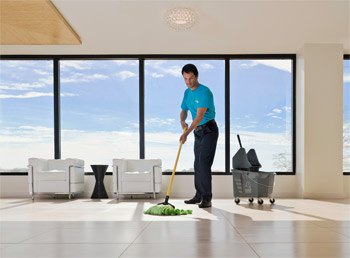 We provide janitorial services in Frederick, Maryland and the surrounding areas. Let us tailor our services to make sure your facility looks and runs great.
Our janitorial services include:
• Custom janitorial plan
• Daily cleaning such as vacuuming, trash removal and restocking restrooms
• Carpet spot and stain removal
• Tailored and detailed cleaning of highly used common areas
• Hard-surface floor maintenance and care
• And many more services, please ask!